Duke of Rivoli, Prince of Essling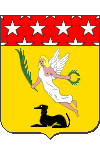 André Masséna was born in Nice, on the French Riviera (then part of the Kingdom of Sardinia), on May 6, 1758.
Orphaned at a young age, he began serving France in 1775 when he joined the Royal Italian regiment. He was discharged 14 years later in August 1789 without rising above the rank of warrant officer (adjutant).
He lived for some time in Antibes where he may have been engaged in smuggling.
At the beginning of 1792, he was elected Lieutenant Colonel of the 2nd Battalion of Volunteers of Var and then assigned to the Italian Army where he proved himself to be particularly useful during the invasion of Nice. Promoted to Brigadier General in August 1793 and then to général de division (Major General) in December after distinguishing himself at the Siege of Toulon, he was the principal architect of the victory at Loano in November 1795 that gave the French access to the Italian Peninsula.
He was denied command of the ensuing campaign and fell instead to a general 11 years his junior in age and rank: Napoleon Bonaparte.
His disappointment pushed him to prove his worth though the inspired manoeuvring of his unit of grenadiers positioned as the vanguard. It was Masséna who forced his way across the Lodi bridge (May 10, 1796), who was the first to enter Milan (May 14) and Verona (June 3) and who crushed the Austrians at Lonato (August 3). He continued to distinguish himself at Arcole (November 15-17) and at Rivoli (January 14, 1797) where he played a decisive role in the victory. At La Favorite (January 16) he earned the nickname "the Dear Child of Victory" from Bonaparte. Next, he participated in the lightening march on Vienna only stopping within 100 kilometres of the capital. Over the course of this advance, Masséna earned a reputation as a plunderer and an extortionist that would stay with him throughout his career.
Upon returning to France where he had been sought by the Directoire to ratify the preliminary peace treaty of Leoben, André Masséna was given command of the troupes occupying Rome. However, Masséna's blatant and large-scale embezzlement, combined with delays in the soldier's pay, provoked a mutiny. His own officers, assembled together, declared they no longer recognized his authority and refused to obey his orders in a move without historical precedent. He was forced to leave Rome and found himself without a commission, despite his appeals to Napoleon Bonaparte, which had evidently fallen on deaf ears.
With most of their best generals in Egypt, the Directoire again called on him in February 1799 when war broke out. He took command first of the Swiss Army and then of all French forces between Dusseldof and Saint-Gothard: a total of 30 000 men with whom he faced 100 000 Austrians. With luck on his side, he managed to seize Zurich where he defeated the Russian Armies under Souvorov (September 25-26) who he forced into a disastrous retreat. At that point, the Coalition began to break apart. The impact of this victory, following a series of French disasters in Italy, placed Masséna among the defenders of the nation. He may even have been able to himself attempt the coup d'état that Napoleon Bonaparte would successfully carry out two months later.
Bonaparte, now First Consul, gave him the command of a much weakened Italian Army with whom he could do very little except to defend Genoa while waiting for reinforcements that were not coming. He heroically withstood a siege from April 5 until June 4, 1800 when he capitulated on the condition that he could return with his army to Var in France. His resistance, which required the mobilization of a significant Austrian force, undoubtedly contributed to the French victory at Marengo. Nonetheless, Bonaparte withdrew him from command.
The voters, however, did not hold this against him. He was elected to the Legislature (Corps législatif) from 1803 to 1807, perhaps due to his reputation as a republican general which was strengthened by his vote against life consulship; a decision that also put him under police surveillance. Though nothing politically compromising was discovered.
He was among the first Marshals of France in 1804 and was once again given command of the Italian Army the following year. He confronted Archduke Charles of Austria with some success, but continued embezzling funds on a massive scale.
Despite Napoleon I's knowledge of Masséna's transgressions, he was assigned the invasion of the Kingdom of Naples to benefit Napoleon's brother, Joseph.
Though the invasion was successful, André Masséna played only a secondary role during the Polish Campaign. Soon after, he easily obtained an extended leave due to his health from an Emperor who had no intention of counting him among his closest advisers.
Thus the Marshal's surprise when Napoleon made him Duke de Rivoli in March 1808. Exactly one year later, he was recalled to active service at the beginning of the offensive in Germany. Masséna covered himself with glory at Essling, where he managed to defend a small bridge vital to the retreat of French troupes isolated on the left bank of the Danube against an Austrian army that far outnumbered his own. Six weeks later at Wagram, again in a difficult situation, alone he withstood the main attack of the Austrian Army while waiting for the "staggering blow" promised by the Emperor. These exploits were rewarded in January 1810 with the title of Prince d'Essling, including the sum of 500 000 francs and the Château of Thouars in the French Department of Deux-Sèvres.
Two months later he was sent to Portugal where he had to contend with the ill will of his subordinates, Michel Ney and Jean-Andoche Junot, and with the lethargy of Jean Soult who failed to provide promised reinforcements. This meant that after some initial successes, he was forced to abandon the Torres Vedras defences. Retreating while under attack, he crossed the Spanish border in March 1811 pursued by Wellington.
Napoleon I's displeasure sidelined him to the command of the military division stationed in Marseilles where he remained until March 1814 having had the commission extended by Louis XVIII.
During the Hundred Days, he enthusiastically joined the Emperor, who named him a Peer of France on June 8, 1815 but did not trust him with a command. After Waterloo, the President of the provisional government, Joseph Fouché, offered him the National Guard. In this role, he was able to make himself useful one last time by maintaining order in Paris during the ongoing civil unrest.
After the Second Restoration, he reluctantly became a member of the war tribunal tasked with passing judgement against Marshal Ney, though he eventually recused himself. He himself was the subject of an accusation that his negligence had aided Napoleon's advance after landing in France. The monarchist government, knowing him to be gravely ill and suffering from tuberculosis, allowed the trial to stagnate until the Marshal's death.
He died on April 4, 1817 in his hotel in Paris on the Rue de Bourgogne (where he had been staying with Marshal Mortier) leaving his immense fortune to his wife. His imposing tomb can be found in the 28th division of the Père Lachaise Cemetery in Paris .
"Marshal Masséna, Prince of Essling" by Franz Gabriel Fiesinger (Offenburg 1723 - London 1807).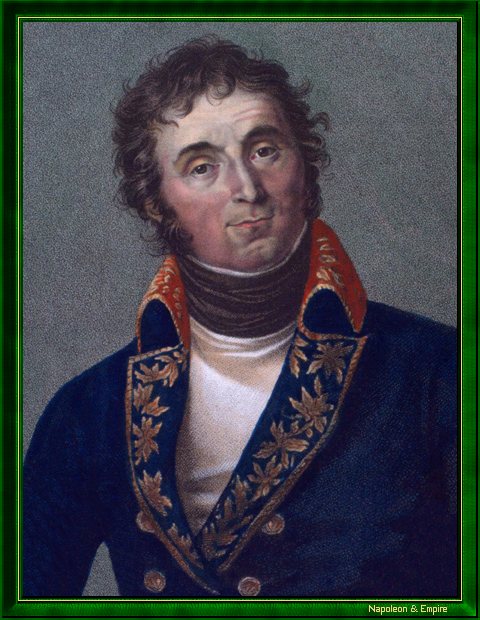 Freemasonry: Marshal Masséna was initiated in Toulon in 1784 by "Les Enfants de Minerve" ("The Children of Minerva") while he was still an adjutant of the Royal Italian regiment. He was a member of multiple lodges, including "Les Vrais Amis Réunis" ("True Friends Together") in the Orient of Nice, "Sainte Caroline" in Paris, "L'Etoile Union" ("The Union Star") in Thouars (Deux-Sèvres) and the "La Parfaite Amitié" ("Perfect Friendship") Military Lodge. He was also Grand Administrator of the Grand Orient of France and a member of the Supreme Council of the 33rd degree.
The name Masséna can be found on the 23rd column (south side) of the Arc de Triomphe while a statue by Anatole Calmels honouring the Prince of Essling's memory can be found on the north side of the Louvre on the Rue de Rivoli .
In 2008, the Postal Service of Monaco released a 0.86 EUR stamp bearing the image of
Acknowledgements
We thank Mr Liam Mulroy for having translated this page and Mr Cyril Maillet for the photograph of Marshal Masséna's statue, Rue de Rivoli in Paris.

Other portraits