Count of the Empire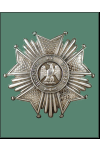 Guillaume Brune was born on March 13 (or May 13), 1763 in Brive-la-Gaillarde, Limousin, France. He was the son of a lawyer.
He became General during the French Revolution, then Marshal of the First French Empire.
He was assassinated by royalists on August 2nd, 1815 in Avignon.
He was laid to rest in the cemetery of Saint-Just-Sauvage (Marne), a little town where he owned a castle .
"Marshal Brune", by Marie Guilhelmine Benoist (Paris 1768 - Paris 1826).