Count of Artois, King of France from 1824 to 1830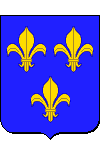 Born on October 7, 1757 in Versailles, he was the younger brother of future Kings Louis XVI and Louis XVIII of France.
He himself reigned as King of France from September 16, 1824 to August 2nd, 1830.
He died of cholera on November 6, 1836 in Görz, Slovenia.
"Charles X, King of France" by François Pascal Simon Gérard (Rome 1770 - Paris 1837).