Count of Sussy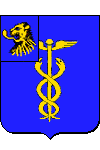 Born on January 1st, 1750 in Chalons-sur-Marne, Champagne, France.
He served the Emperor as Minister of Commerce and Industry from 1812 to 1814.
He died on July 7, 1826 in Paris and was buried in the Père Lachaise Cemetery (35th division) .
"Jean-Baptiste Collin, Count of Sussy" by Henri-François Riesener (Paris 1767 - Paris 1828).