Count of Champmol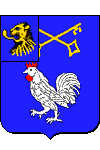 Born on February 10, 1747 in Pont de Beauvoisin, Duchy of Savoy.
He served the Empire as Minister of Internal affairs from 1807 to 1809.
Emmanuel Crétet died on November 28, 1809 in Paris.
He was buried in Paris' Pantheon .
"Emmanuel Crétet, Count of Champmol". Print of the nineteenth century.