Officer of the Légion d'Honneur, Baron of the Empire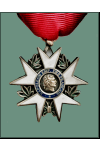 Born on May 4, 1770 in Rome.
French neoclassical painter.
Principal works: "Cupid and Psyche", "The Battle of Austerlitz", "On the bank of the Lora, Ossian conjures up a Spirit with the sound of his harp", and many portraits: Emperor Napoleon I (in coronation robes, in front of the Chateau De Malmaison...), Madame Mère (Napoleon's mother), Empress Joséphine, Jerome Bonaparte King of Westphalia, Désirée Clary, Mrs Tallien, Countess Walewska, Antoine-François Fourcroy, Juliette Récamier, Caroline Murat with her children, Joachim Murat King of Naples, Empress Marie-Louise and her son Napoleon-François, General Jean-Victor Moreau, Jean-Nicolas Corvisart, Charles-Maurice de Talleyrand-Périgord, Emperor Alexander I of Russia, Hortense de Beauharnais, Eugénie de Beauharnais, Alphonse de Lamartine, Prince Eugene of Sweden...
He died on January 11, 1837 in Paris and was buried in the Montparnasse Cemetery (1st division) .
"François Pascal Simon Gérard, aged 54" by Sir Thomas Lawrence (Bristol 1769 - London 1830).