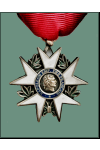 Born on January 5, 1767 in Montargis, near Paris.
French neoclassical and pre-romantic painter.
Principal works: "The Story of Joseph and his Brethren", "Hippocrates Refusing the Gifts of Artaxerxes I", "The Sleep of Endymion", "The Flood", "Apotheosis of French Soldiers Fallen in the Liberation War", "The Revolt at Cairo", "Napoleon Bonaparte Receiving the Keys of Vienna at the Schloss Schönbrunn, 13th November 1805", "Malvine, Dying in the Arms of Fingal", "Entombment of Atala", and several portraits: Emperor Napoleon I in his Coronation Robes, François René de Chateaubriand, Madame de Stael, Jean-Baptiste Belley Deputy of San Domingo...
He died on December 9, 1824 in Paris and was buried in the Père Lachaise Cemetery (28th division) .
"Anne-Louis Girodet de Roucy-Trioson", self-portrait.
Other portraits