Count of Cessac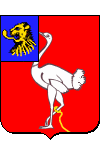 Jean Girard Lacuée was born on November 4, 1752 at the Castle of Lamassas in Hautefage-la-Tour, near Agen, Southwest France.
He served the Emperor as Minister of War administration from 1810 to 1813.
He died on June 14, 1841 in Paris and was buried in the Montparnasse Cemetery (4th division) .
"Jean Girard Lacuée de Cessac" by Henri-François Riesener (Paris 1767 - Paris 1828).