King of Holland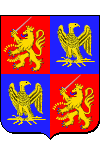 Born Luigi Buonaparte on September 2nd, 1778 in Ajaccio , Corsica.
Younger brother of Joseph Bonaparte, Emperor Napoleon I of France, Lucien Bonaparte and Elisa Bonaparte.
King of Holland as Koning Lodewijk I from 1806 to 1810.
Father of Charles Louis-Napoleon Bonaparte (1808-1873), Emperor Napoleon III of France from 1852 to 1870.
He died on July 25, 1846 in Livorno, Tuscany, Italy, and was buried in the Saint-Leu-La-Forêt's Church.
"Louis Bonaparte, King of Holland", by Jean-Baptiste Joseph Wicar (Lille 1762 - Rome 1834).