Count of the French Empire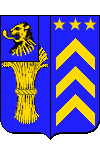 Born on Februrary 28, 1758 in Rouen, Normandy.
He served the Emperor as Minister of the Treasury from 1806 to 1814.
He died on April 20, 1850 in Paris and was buried in the cemetery of Morigny-Champigny , near Paris.
"The Count Nicolas-François Mollien" by Robert Jacques François Faust Lefèvre (Bayeux 1755 - Paris 1830).