King of Naples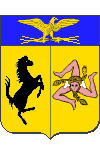 The future Prince Murat, Grand Duke of Berg and King of Naples was born on March 25, 1767 in La Bastide-Fortunière, a village near Cahors, in Quercy (Southwest France), to an inn-keeper who intended for his son to join the priesthood.
Expelled from the seminary for bad behaviour, Joachim Murat joined a cavalry regiment from which he was forced to resign after two years. Working as a grocer's assistant, he solicited the help of several regional politicians who helped him to rejoin his regiment in 1791. Writing to his brother, he outlined his efforts to ensure his rapid promotion. For Murat, this meant vehemently voicing republican opinions, denouncing his less-patriotic comrades and even changing his name to Marat (Jean-Paul Marat was a famous French revolutionary).
Promoted to maréchal des logis (Sergeant) in May 1792, Lieutenant in October, Captain in April 1793, and to chef d'escadron (Major) on May 1st, Murat's ascension was momentarily slowed by the fall of Maximilien Robespierre but regained momentum after 13 Vendémiaire (October 5, 1795 in the French Republican Calendar). The efficiency with which he carried out the mission assigned to him that day by Napoleon Bonaparte (he was charged with bringing the necessary canons to Paris) laid the foundations for his future career. He was first promoted to chef de brigade (Colonel) and then selected as the personal aide-de-camp to the new General of the Italian Army.
First at Dego and then at Mondovi, Joachim Murat quickly distinguished himself for his bravery on the battlefield, earning the rank of General.
In 1799, Napoleon Bonaparte sent him to Egypt, perhaps to separate him from Bonaparte's sister Caroline, despite Murat's own attempts to evade this posting. While there, Murat again distinguished himself during the Syrian expedition and was named général de division (Major General) on the battlefield at Aboukir where he was injured. A bullet pierced both his cheeks miraculously missing his tongue. With his mouth open at just the right moment, his commander said of him, "It was the first time he answered correctly."
Shortly after, Murat returned to France with Napoleon Bonaparte and played an important role in the ensuing coup d'état. As a result, he was named Commander of the Consular Guards and eventually married the sister of the First Consul (Caroline Bonaparte) in January 1800. Their union was celebrated at the Château de Mortefontaine in Picardy.
He once again displayed exemplary courage at Marengo where he received the Sabre of Honour before being assigned the task of pursuing the retreating Neapolitans. After signing the armistice with the King of Naples, he took command of the newly established occupying forces.
Returning to France, he became Governor of Paris, a position that required him to select the military tribunal charged with passing judgement on the Duke d'Enghien.
The dawning of the Empire showered him with honours. He was named Marshal, Grand Admiral and Prince.
In 1805, despite a brilliant German campaign (he was the first to enter Vienna), Murat repeatedly incurred the Emperor's displeasure for his casual attitude and tactical errors. This did not prevent him, however, from receiving the title of Grand Duke of Berg and of Cleves.
He participated in the Prussian and Polish campaigns of 1806 and 1807 and his cavalry charge at Eylau during the latter become his greatest victory.
He was present at Tilsit where Napoleon I displayed him as a curiosity of sorts for foreign sovereigns.
In 1808, Murat was tasked with putting down the Spanish uprising as Lieutenant General of the Empire. His definitive suppression of the insurrection on May 2 garnered the Emperor's congratulations and led Murat to hope to obtain the crown of Spain. However, Napeolon I chose his brother, Joseph Bonaparte, instead. By way of compensation, Murat was crowned King of Naples on July 15 when the thrown became vacant.
He devoted the ensuing years to his new kingdom where he became a popular ruler.
This was interrupted in 1812 when he joined Napoleon I's invasion of Russia. Murat played a key role in the campaign; he was the first to enter Moscow and was made Commander in Chief when Napoleon I left the Grande Armée. He abandoned his command in January 1813 despite explicit orders to the contrary and returned to Naples to independently open negotiations with England and Austria.
He rejoined his brother-in-law at the start of the German campaign only to leave once again after the Battle of Leipzig to return to Italy. This time, the French police were ordered to arrest and jail him.
In January 1814, he allied himself with Austria and agreed to supply 30 000 troupes to his new allies. Consequently, the new King of France, Louis XVIII, refused to recognize him as King of Naples and announced his intention to send an army to overthrow Murat.
Upon Napoleon I's return during the Hundred Days, Murat once again joined the Emperor and commanded all of Italy to proclaim its independence. Defeated at Tolentino in May 1815, he was forced to seek refuge in France though he remained barred from Paris.
After Waterloo, he allowed himself to be convinced by insurrectionists to attempt an attack on Calabria believing his supporters would triumphantly welcome him. However, only the police were present at his arrival on October 13, 1815. He was condemned to death by a hastily convened military tribunal and was executed within half an hour.
"Joachim Murat, King of Naples" by François Pascal Simon Gérard (Rome 1770 - Paris 1837).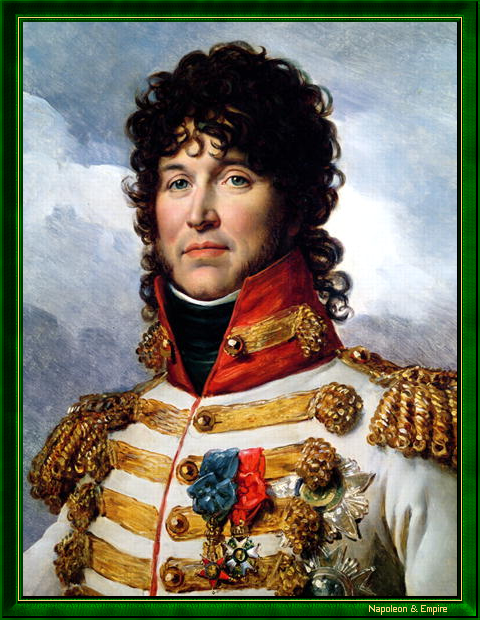 The name Murat can be found on the 24th column (south side) of the Arc de Triomphe while a statue by Victor Peter honouring the Prince's memory can be found on the north side of the Louvre on the Rue de Rivoli .
Joachim Murat is buried in a mass grave in the cemetery of the Church of San Giorgio in Pizzo, Calabria. His cenotaph can be found in the 39th division of the Père Lachaise Cemetery in Paris .
Freemasonry: Initiated as a Freemason on December 26, 1801 at the "L'Heureuse Rencontre" ("Happy Meeting") Masonic Lodge in Milan, Prince Murat was a member of the "Napoleon" Lodge in Paris. He became Assistant Grand Master of the Grand Orient of France on April 5, 1805 and was elected First Grand Warden on September 30 of the same year. In 1808, he became the Worshipful Master of the "La Colombe" ("The Dove") Lodge which subsequently changed its name to "Sainte-Caroline" in honour of his wife. On October 27, 1809 he founded the Grand Order of Naples and became Grand Master.
Acknowledgements
We thank Mr Liam Mulroy for having translated this page and Mr Cyril Maillet for the photograph of Prince Murat's statue, Rue de Rivoli in Paris.

Other portraits