Lord Warden of the Cinque Ports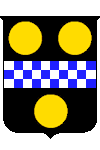 Son of William Pitt the Elder (1708-1778), himself a prime minister, and of Hester Grenville (sister of former Prime Minister George Grenville), William Pitt, said William Pitt the Younger, was born in Hayes, Kent, on May 28, 1759.
Trained by his father, he was elected to the Commons in 1781 and became prime minister on 19 December 1783, at the age of twenty-four.
The political upheavals of the continent began to interest him when the French army seized the Netherlands, and Antwerp in particular. Until then, he had mainly been concerned to develop the country's economy through trade and exports.
His european policy was to fund the anti-French coalitions without committing British troops on the ground.
In 1800, after defeating the French expeditionary force landed in Ireland, he directed the integration of the rebel island in the United Kingdom by the Act of Union which took effect on 1 January 1801. His resignation followed, in March, when King George III refused him the emancipation of Irish Catholics, an indispensable complement of the union in the eyes of William Pitt.
He returned to power on February 30, 1804, after the rupture of the Peace of Amiens that had been signed with the First Consul Napoleon Bonaparte by Henry Addington.
The failure, on the battlefield of Austerlitz, of the third coalition, which he was the instigator, combined with a precarious health caused by an immoderate taste for port wine, hastened his death, which occured on January 23, 1806, in London. He was buried in Westminster Abbey alongside his father.
"William Pitt the Younger" by John Hoppner (Whitechapel, London 1758 - London 1810)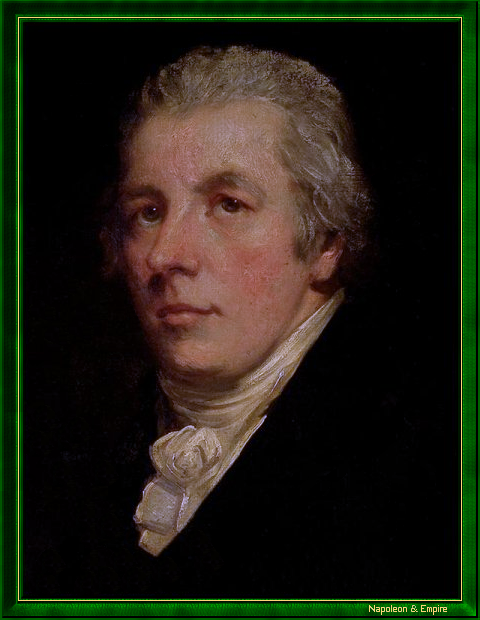 After being informed of the outcome of the battle of Austerlitz, William Pitt was quoted as saying about a map of Europe: Roll Up That map: it will not be wanted these ten years.
Other portraits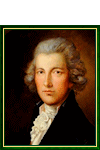 Agrandir
"William Pitt the Younger" by Gainsborough Dupont (Sudbury, Suffolk 1754 - London 1797)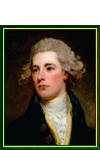 Agrandir
"William Pitt the Younger" painted circa 1783 by George Romney (Dalton-in-Furness, Lancashire 1734 - Kendal, Westmorland 1802)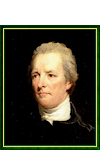 Agrandir
"William Pitt the Younger" by John Jackson (Lastingham, Yorkshire 1778 - London 1831).