Duke of Massa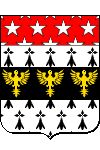 Born on November 5th, 1746 in Blâmont, Duchy of Lorraine.
Dead on June 25th, 1814 in Paris.
French Minister of Justice from 1802 to 1813.
"Claude-Ambroise Régnier, duke of Massa, Chief Justice and Minister of Justice" painted in 1808 by Robert Jacques François Faust Lefèvre (Bayeux 1755 - Paris 1830).