Count of Unsebourg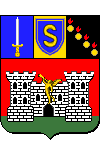 Dominique-Joseph-René Vandamme was born on November 5, 1770 at Cassel, French Flanders, the son of a surgeon.
He served as an officer during the French Revolution, and a General during the Empire.
In 1815 he had to exile and sailed to the United States of America.
He came back to France in 1819, and died in his home town on July 15, 1830.
"General Vandamme". Print of the nineteenth century.