Count of Vendenheim and Sundhausen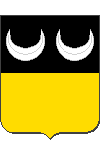 Dagobert Sigismond von Wurmser, Count of Vendenheim and Sundhouse, was born at Strasbourg on May 7, 1724, in an old and rich Alsacian family.
He became an officer in the Holy-Empire army, and fought as a General against the French Republican Army until February 2nd, 1797, when he had to surrender in Mantua .
He died on April 21st, 1797, in Vienna.
"Count Dagobert Sigismund von Wurmser". Print of the nineteenth century.