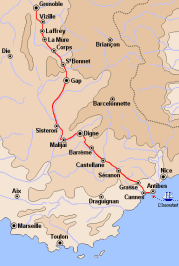 The Flight of the Eagle
from Golfe-Juan to Grenoble
Enlarge
The final months of the French Empire, known as the Hundred Days, began with the shocking "invasion of the country by a single man" as it was described by François-René de Chateaubriand with the brevity and wit for which he is famous. The phrase "The Flight of the Eagle", a favourite of historians and poets, was taken directly from the Emperor's speech when he landed at Golfe-Juan.
We will trace the Emperor's route to Grenoble noting the iconic landmarks along the way: the photos below show some of the places through which the Eagle standard passed. The place names used are those of 1815 (Basses-Alpes, Porto-Ferrajo, Digne etc.) as are the departments (though the Alpes-Maritimes, for example, had been created only a year earlier).
Island of Elba

PORTO-FERRAJO (now called Portoferraio) On February 26, 1815 at nine o'clock in the evening, Napoleon set off on the brig Inconstant, accompanied by a flotilla of four three-masters (the coaster Caroline, the polacca Saint-Esprit and the xebecs Étoile and Saint-Joseph) and two feluccas (Abeille and Mouche) carrying 700 men armed with four cannons. The sea was calm, the wind low. Very slowly the island of Elba disappeared over the horizon.
Department of Var

Department of the Basses-Alpes

Department of the Hautes-Alpes

Department of Isère