Duke of Istria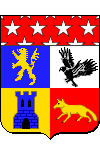 Born on August 6th, 1768 in Prayssac, near Cahors, Quercy, France.
Marshal of the First French Empire.
He was killed by a cannonball on May 1st, 1813 in Weißenfels, Saxony-Anhalt, Germany.
Marshal Bessières was laid to rest in the Governor's Crypt of the Cathedral of Saint-Louis, in Paris.
"Marshal Bessières, Duke of Istria" by Henri-François Riesener (Paris 1767 - Paris 1828).