First Count of Hunebourg, Duke of Feltre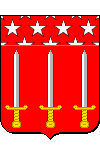 He was born on October 17, 1765 in Landrecies, Cambrésis, North of France.
This French General served the Emperor as Minister of War from 1807 to 1814.
The Duke of Feltre died on October 28, 1818 in Neuwiller-la-Roche, near Saverne, Bas-Rhin (eastern France).
"Henri-Jacques-Guillaume Clarke, Duke of Feltre", by François-Xavier Fabre (Montpellier 1766 - Montpellier 1837).