Count of the Empire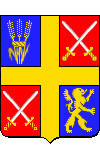 Jean-Baptiste Éble was born at Saint-Jean-Rohrbach, Lorraine, on December 21st, 1758. His father was an officer.
He himself became an officer, and served as a General during French Consulate and First Empire.
He died on December 31st, 1812, at Königsberg.
"General Jean-Baptiste Eblé" by Jean-Baptiste Paulin-Guerin (Toulon 1783 - Paris 1855).