Count of Valmy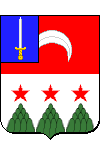 François Étienne Kellermann was born on August 4, 1770 in Metz. His father was future Marshal François Etienne Christophe Kellermann.
He served during the French Revolution as an officer, then during the Consulate and the Empire as a General.
He died on June 2nd, 1835 in Paris and was buried, with his father, in the 30th division du Père Lachaise Cemetery .
"General Kellermann, Count of Valmy". Anonymous painter, Nineteenth Century.