"Madame Mère"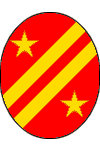 Napoleon Bonaparte's mother was born in Ajaccio , Corsica, on August 24, 1750.
Married to Carlo-Maria Buonaparte (Charles Bonaparte) on June 2, 1764, she gave him twelve children, eight of whom would live to adulthood.
Widowed in 1785, she lived in discomfort for the years following the death of her husband.
In 1793, the partisans of Pascal Paoli burned her house. She had to flee Ajaccio with her family.
She took refuge in Toulon, then in Marseilles, where she first took care of marrying her children before settling in Paris after the 18th of Brumaire, from where she followed, not without concern, the rise of Napoleon.
Although represented by Jacques-Louis David in his painting of the coronation, she did not attend the ceremony.
After the fall of the Emperor in 1814, she moved to Rome with her half-brother Cardinal Joseph Fesch but made the trip to Paris during the Hundred Days to see her son again.
Thereafter, she did not obtain the right to join him in Saint Helena.
She died in the Eternal City on February 2nd, 1836.
She was buried in the convent of the sisters of the order of the Holy Cross and Passion in Corneto, near Civitavecchia, in Lazio, and her remains were transferred in 1859 to the cathedral of Ajaccio before a final transfer the following year to the Imperial Chapel of the same city. She rests there today alongside her husband and her half-brother.
"Maria-Letizia Bonaparte in 1800", by Charles Guillaume Alexandre Bourgeois (Amiens 1759 - Paris 1832).