First valet, Count of the Empire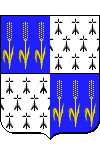 Louis-Joseph-Narcisse Marchand was born at Paris on March 28, 1791.
He served the Emperor as first valet, following him to Elba in 1814 and to Saint-Helena in 1815.
Napoleon, on his death bed, made him Count of the Empire.
He died at Trouville on June 19, 1876 and was buried in the Père Lachaise Cemetery (26th division) , in Paris.
"The Count Louis-Joseph-Narcisse Marchand" by Jean-Baptiste Mauzaisse (Corbeil 1784 - Paris 1844).