Duke of Bassano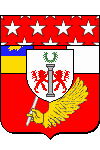 Born on July 22, 1763 in Dijon, Burgundy, Hugues Bernard Maret became a lawyer in Paris just before the French Revolution, then a diplomat.
After the coup of 18 Brumaire, Maret became General Secretary of Consuls, and shortly afterwards Secretary of State on December 25, 1799. In 1802, he took over from Bourrienne as Chief of Staff of the First consul.
Napoleon I, who appreciated Maret a lot, named him Count in 1807, then Duke of Bassano on August 15, 1809.
From April 1811 to November 1813, Maret served Napoleon as Minister of Foreign Affairs, then as Chief of Staff once again. He remained faithful to the Emperor during the Hundred-Days, and consequently was forced into exile for several years by King Louis XVIII in July 1815.
The Duke of Bassano died in Paris on May 13, 1839 and was buried in the Père Lachaise Cemetery (31st division) .
"Hugues Bernard Maret, Duke of Bassano". French school of the nineteenth century.