Count of Mosloy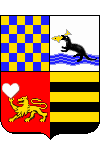 Born on 1753 in Strasbourg, Alsace, France or on August 7, 1754 in Kork, Baden, Germany.
Under-Secretary of State for Foreign Affairs during the Hundred Days.
He died on November 9, 1817 in Paris and was buried in the Père Lachaise Cemetery (37th division) .
"Count Otto de Mosloy (detail") by Johann Baptiste Seele (Meßkirch, Württemberg 1774 - Stuttgart 1814).