Duke of Zaragoza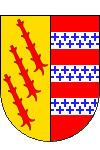 Don José Rebolledo de Palafox y Melzi was born at Zaragoza, Spain, circa 1776 (between 1775 and 1780 according to the sources), in an old and noble family of Aragon.
He became an officer and fought as a General against the French during the Peninsula War.
He died at Madrid on February 15, 1847.
"José de Palafox y Melci (detail of an equestrian portrait)" by Francisco José de Goya y Lucientes (Fuendetodos 1746 - Bordeaux 1828).