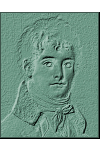 Born on March 25, 1783 in Toulon, Provence, Southern France.
French neoclassical painter.
Principal works: "Dead Christ" (Cathedral of Baltimore, MD), "Christ on the knees of the Virgin", "Anchises and Venus", "Ulysses and Minerva", "The Holy Family", "Sainte Catherine" and many portraits: Joachim Murat King of Naples, Charles Nodier, Abbé Lamennais, Pierre-Simon de Laplace, Marshal Bessières, Marshal Lannes, Marshal de Marmont, Marshal Suchet, Baron Dominique Larrey, François Athanase Charette de la Contrie, François René de Chateaubriand, King Louis XVIII and King Charles X.
He died on January 19, 1855 in Paris.
"Jean-Baptiste Paulin Guérin" by Robert Jacques François Faust Lefèvre (Bayeux 1755 - Paris 1830).