Count of the Empire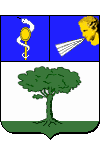 Emmanuel-Joseph Sieyès was born in Fréjus, Provence, on May 3rd, 1748,
He became a clergyman, then during Frenc revolution, a famous politician.
He served his country as Director during the Directoire, and organized with General Napoleon Bonaparte the coup of 18 Brumaire.
He was made Second Consul, then Senator and Count of the Empire.
Siéyès died on June 20, 1836 and was buried in the Père Lachaise Cemetery (30th division).
"Count Emmanuel-Joseph Sieyès" painted in Brussels in 1817 by Jacques-Louis David (Paris 1748 - Brussels 1825).