Duke of Dalmatia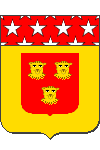 The son of a solicitor, Jean-de-Dieu Soult was born on March 29, 1769 in Saint-Amans-la-Bastide, a village now part of the Tarn department in the south of France.
He joined the army in 1785 and was a corporal at the time of the Revolution.
A zealous republican, he advanced quickly through the ranks. Promoted to Sub-Lieutenant in 1792, to Captain less than a year later, and to Adjutant General after a stint at the Army's headquarters, he became a Brigadier General after the Battle of Fleurus (June 26, 1794) having distinguished himself during the fighting.
After five years in Germany, he was promoted to général de division (Major General) in 1799 and transferred to the Army of Switzerland commanded by André Masséna.
Soult thrived thanks to his sang-froid. He contributed to the victory at Zürich (September 25-26, 1799), but failed in his mission to pursue Alexander Suvorov. He regained his stature by courageously defending Genoa where he was wounded and taken prisoner.
Liberated by the victory at Marengo, he took command of the military in rebellious Piedmont. Having subdued the region, he was posted to the south of Italy.
After the Treaty of Amiens, Soult returned to Paris where he ostentatiously supported the First Consul Napoleon Bonaparte, whom he did not yet know, but who welcomed Soult with fanfare. He became one of the four Commanders of the Consular Guard and was given command of a military training camp where he implemented a severe and rigorous regime.
In 1804 he was promoted to Marshal.
In 1805, he was made Colonel General of the Imperial Guard and Commander in Chief of the Boulogne camp. At Austerlitz, he led the decisive attack against the massed Allies, earning himself the sobriquet the "best tactician in Europe" from Napoleon I.
He also played an important role in the victories at Jena and Preussisch-Eylau and was rewarded by Napoleon, who named him military governor in Berlin, and made him Duc de Dalmatie (Duke of Dalmatia).
In 1808, Soult was named Commander in Spain. His reputation was tarnished, however, by failures due to his ambition (he dreamed of becoming King of Portugal) and to his ravenous greed that led him to shamelessly pillage for his own profit.
After being defeated at the Battle of Salamanca (July 1812), he was briefly recalled to Germany but then almost immediately sent back to Spain. Unable to regain control of the situation, he returned to France with the remnants of his army and slowed the enemy's advance before a final confrontation at Toulouse in April 1814.
He allied himself with Louis XVIII and immediately displayed an extreme monarchism that was rewarded when he became Minister of War.
When Napoleon I returned, he was named no less than Commander in Chief though he failed to live up to his reputation in the this role, especially during the Battle of Waterloo.
This time, King Louis XVIII exiled Soult and stripped him of the title of Marshal.
He did not return to France until 1819 and stayed away from public life until 1830. He was restored as a Marshal in 1820 and in 1827 Charles X elevated him to the peerage after Soult had professed his support for the monarchy.
By supporting King Louis-Philippe in 1830, Soult enjoyed a brilliant career as Minister and later Prime Minister during the July Monarchy; however, this did not stop him from once again becoming a republican in 1848...
His death on November 26, 1851 at his Castle of Soult-Berg one week before the coup d'état on December 2 was the only thing that prevented him from pledging his unfailing support to the future Emperor Napoleon III...
The Duke of Dalmatia was laid to rest in a chapel attached to the church in the village of his birth, which had been renamed Saint-Amans-Soult in his honour.
"Marshal Jean de Dieu Soult". Nineteenth century French school.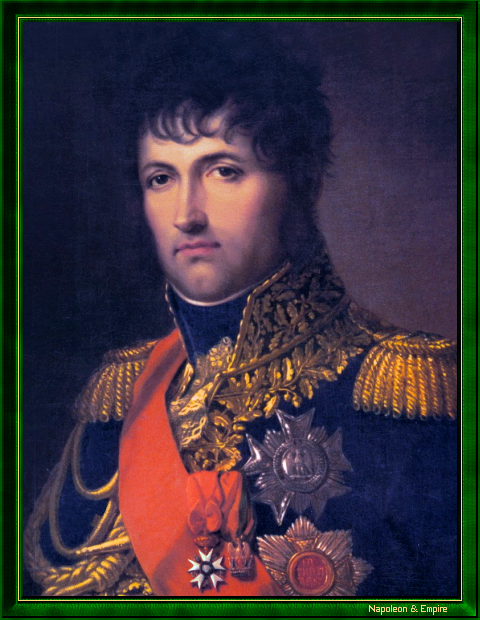 The name Soult can be found on the 33th column (west side) of the Arc de Triomphe while a statue by Paul Guerard honouring the Marshal's memory can be found on the north side of the Louvre on the Rue de Rivoli .


Freemasonry: Marshal Soult was initiated as a Freemason at an unknown date. He became a Grand Officer of the Grand Orient in 1804 and in 1813 a member of "L'Harmonie Universelle" ("Universal Harmony") Chapter in Castres (Tarn).
Acknowledgements
We thank Mr Liam Mulroy for having translated this page and Mr Cyril Maillet for the photograph of Marshal Soult's statue, Rue de Rivoli in Paris.

Other portraits