Duke of Padua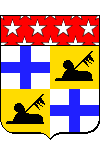 Jean-Thomas (or Jean-Toussaint) Arrighi de Casanova was born on mars 8, 1778 in Corte, Corsica.
He fought in Italy (1796-1797), in Aegypt (1798-1799), in Italy again (1800), in Germany (1805-1806), in Poland (1807), in Spain (1808-1809), in Austria (1809), in Germany (1813) and in France (1814).
During the Hundred Days, Napoleon made him Governor of Corsica. After the Emperor's abdication, Arrighi left for exile until 1819.
He was elected deputy by the Corsicans in 1849 then became in 1852 senator and Governor of the Invalides , the last post he would hold.
He died on March 22nd, 1853, at the age of 75. He was laid to rest in the Governor's Crypt of the Cathedral of Saint-Louis.
"Jean-Thomas Arrighi de Casanova, duke of Padua". French school of nineteenth century.