Duke of Castiglione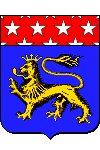 Charles Pierre François Augereau was born on October 21, 1757 at rue Mouffetard in Paris. His father was a servant and his mother, originally from Bavaria, was a fruit and vegetable seller. He grew up in a popular region of the capitol, the Saint-Marceau suburb, whose manners and dialect he maintained for the rest of his life.
He joined the military in 1774 and served the King of France for three years before deserting and spending the next few years moving from place to place. For a time he was a soldier in Prussia and, after deserting again, returned to France following the amnesty declared after the birth of the Dauphin in 1783. Though he had moved to Naples , he was expelled by the local authorities on an unknown charge and arrived in Paris when the Revolution was in full swing, immediately joining a battalion of volunteers.
He was first assigned as a Master Warrant Officer (adjutant-major) to the German Legion (perhaps because he spoke German). Promoted to Captain in the Hussars in June 1793, he traveled to the Vendée region as an aide-de-camp for General Rossignol where he served only briefly before joining the Army of the Eastern Pyrenees.
While there, he began to display the trademark boldness and sound judgment that would allow him to rise above the crowd, according to Napoleon. But he was also able to easily mix with his soldiers thanks to his demeanour, his direct manners and his use of popular language. He soon proved himself to be a remarkable instructor earning high praise from the government's representatives in their reports to the Convention. On December 23, 1793, he was promoted to général de division (Major General).
Once peace with Spain was declared, he rejoined the Italian Army in September 1795. When Napoleon Bonaparte arrived the next year, he named him Commander of the first division of the battle corps of the army. As a result, he and his men were always called upon to march into battle first.
Augereau did not disappoint his commanding officer. He distinguished himself at Montenotte (April 12, 1796) where he contributed to victory the next day (April 13) at Millesimo. He fought at Lodi (May 10) and advocated for an offensive before Castiglione (August 5) when every other general was calling for a retreat. He also foreshadowed Napoleon's stunning victory by being the first to plant a flag before storming the Arcole bridge (November 15, 1796). Even his ferocious reprisals against villages in revolt earned him complete approval (Lugo, July 6, 1796). Augereau had become one of Napoleon Bonaparte's most trusted Councillors whose advice was often observed.
After the capitulation of Mantova, he was sent to Paris to bring the Directory the sixty flags captured from the enemy where he received a hero's welcome. He was quickly given command of the Paris division (despite a letter from Napoleon Bonaparte requesting his immediate return to the front) assuring the success of the coup d'état on 18 Fructidor, Year V (September 4, 1797 in the French Republican Calendar) led by three Directors against the moderates and royalists. The Legislature (Corps législatif) called him the "Saviour of the Homeland" but he did not receive the Directorship he had been promised. Despite his bitter complaints, he had to content himself with replacing the recently deceased Lazare Hoche as the head of the army in Sambre-et-Meuse. According to some, he became hostile and jealous toward his former commander who supported the Directory.
Following his attempts to the sabotage of the Treaty of Campo-Formio (Napoleon Bonaparte accused him of fomenting revolts in Italy), he was demoted to the command of the Military Division of Perpignan on January 29, 1798. The next year, he was elected to the Council of Five Hundred for Haute-Garonne as a leftist.
Though he was initially hostile to the coup d'état of 18 Brumaire (November 9, 1799), Augereau did nothing to oppose it and quickly rallied to Napoleon Bonaparte. At first he was sent to Holland in command of a Franco-Dutch army, he was recalled in 1801 and did not receive another commission until 1804. His republican ardour took hold of him and only a Marshal's baton, awarded on May 19, 1804, would content him.
From August 30, 1805 to February 14, 1807, he commanded the 7th Corps of the Grande Armée participating in all the major battles, except Austerlitz, where he once again displayed his considerable military intuition and courage. At Eylau, his army was decimated and he himself was wounded. Indeed, in order to fight he had had to attach himself to his horse due to an illness.
Upon his return to France, Napoleon I made him Duke of Castiglione on March 19, 1808. After a year of leave he returned to combat in Catalonia in June 1809. He displayed a fearsome ferocity during his initial victories though these quickly gave over to defeats. The Emperor dispassionately recalled him.
Augereau returned to active service to lead the 11th Corps of the Grande Armée into Germany at the beginning of the summer of 1812. At the head of this reserve corps, he did not participate in the Russian Campaign but fought in Germany in 1813 without much conviction.
In March 1814, he was tasked with the defense of the region around Lyon. Here, he displayed a surprising amount of apathy when he abandoned the city to the Allies almost without a fight. After the first abdication, he raised the while flag to his troops and published a proclamation calling Napoleon I a tyrant.
However when Napoleon returned from Elba, this didn't stop him from calling on his troops to return to the immortal eagle standards of Napoleon, this is the only path to honour and victory. The Emperor, who considered his conduct at Lyon treason, struck his name from the list of Marshals and did no offer him a commission.
Similarly, King Louis XVIII, who had made him a Peer of France and a member of the War Council during the first Restoration, preferred to overlook him when he returned to the throne. Augereau, who had long wanted rest, had no other option than to profit from the fruits of his dishonesty. This was short-lived as he died of dropsy in his château of La Houssaye-en-Brie (Seine-et-Marne) on June 12, 1816 less than a year after the Battle of Waterloo. The Duke of Castiglione was laid to rest in an anonymous chapel in the 59th division of the Père Lachaise Cemetery in Paris .
"Marshal Augereau, Duke of Castiglione" by Johann Ernst Heinsius (Weimar or Hildburghausen 1740 - Orleans 1812).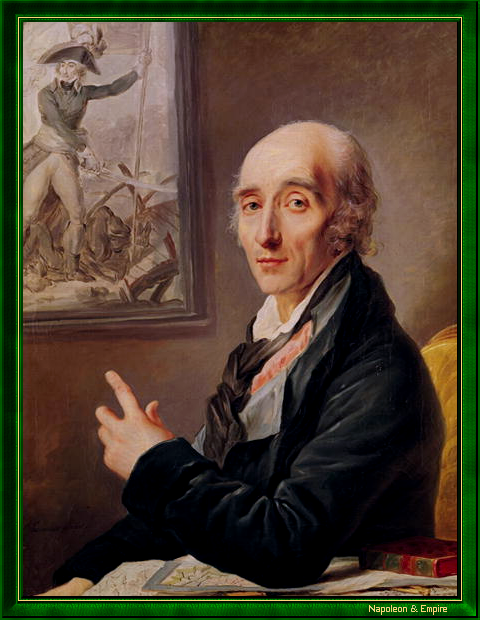 Freemasonry: Marshal Augereau was initiated to the "Les Enfants de Mars" ("The The Children of Mars") Lodge in The Hague during his posting to Holland in 1801. He was a member of "La Candeur" ("The Candor") Lodge in Paris before becoming Worshipful Master of the Regimental Lodge "Les Amis de la Gloire et des Arts" ("Friends of Glory and of the Arts").
Acknowledgements
We thank Mr Liam Mulroy for having translated this page.

Other portraits