Count of Montalivet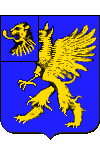 Born on July 5, 1766 in Neunkirch, Duchy of Lorraine.
French Minister of Internal affairs from 1809 to 1814.
He died on January 22, 1823 in Pouilly-sur-Loire, Nièvre, France. He was buried in the Cemetery of Saint-Bouize (Cher) .
"Jean-Pierre Bachasson, Count of Montalivet" by Jean-Baptiste Régnault (Paris 1754 - Paris 1829).