Empress of the French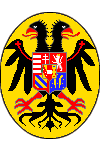 Born Maria Ludovica Leopoldina Franziska Therese Josepha Lucia von Habsburg-Lothringen on December 12, 1791 in Vienna, Austria.
By marrying Emperor Napoleon in 1810, she became Empress of the French, and gave birth in 1811 to Napoleon-François-Charles-Joseph Bonaparte, King of Rome.
She died on December 17, 1847 in Parma, Italy, and was buried in the Imperial crypt in Vienna

"Marie-Louise, Empress of the French" by François Pascal Simon Gérard (Rome 1770 - Paris 1837).