Duke of Otranto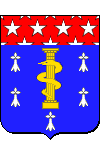 Joseph Fouché was born on May 21, 1759 in Le Pellerin, near Nantes, Southern Brittany.
He served Napoleon as French Minister of Police from 1799 to 1810, and then during the Hundred Days.
The Duke of Otranto died on December 25, 1820 in Trieste, then Austria, now Italy.
He was laid to rest in the cemetery of Ferrières-en-Brie (Seine-et-Marne) .
"Joseph Fouché, Duke of Otranto", by Claude-Marie Dubufe (Paris 1790 - La Celle-Saint-Cloud 1864).