Mamluk of the Emperor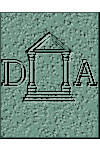 Roustam Raza was born in Tiflis (now Tbilissi), Georgia, circa 1780 or 1782, the son of an Armenian merchant.
When a child, he was kidnapped by Tarars then sold as a slave seven times.
In 1797, in Constantinople, the Bey of Cairo purchased him. Roustam became one of his mamluks.
He then became, after his master's death, the property of Sheik El Bekri at Cairo. The latter, a friend of General Bonaparte, gave him Roustam in August 1799.
Roustam served the Emperor until April 12,1814, after Napoleon's abdication at Fontainebleau.
He died on December 7, 1845, and was buried in the Cemetery of Dourdan, near Paris.
"Mamluk Roustam Raza" painted in 1806 by Jacques-Nicolas Paillot de Montabert (Troyes 1771 - Saint-Martin-es-Vignes 1849).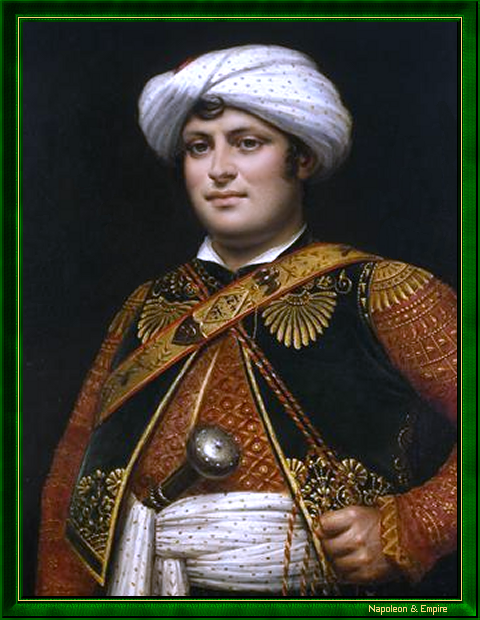 Other portraits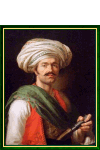 Agrandir
"Roustam Raza" painted in 1811 by Emile Jean Horace Vernet (a.k.a. Horace Vernet, Paris 1789 - Paris 1863).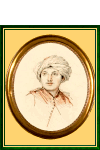 Agrandir
"Roustam Raza". Drawing by Mathieu-Ignace Van Bree (Antwerp 1773 - Antwerp 1839).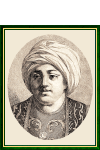 Agrandir
"Rustan, der Leib Mameluck des Kaisers Napoleon". Print of the nineteenth century.