Date and place
January 16th, 1797, at La Favorita, near Mantua, northern Italy.
Involved forces
French army (about 15,000 men) under General Napoleon Bonaparte.
Austrian army (approximately 15,000 men) under Generals Dagobert Sigismund von Wurmser and Giovanni Provera.
Casualties and losses
French army: 1,200 men killed or wounded, 1,800 prisoners.
Austrian army: 1,300 men killed or injured, 4,700 prisoners, 22 cannons.
Aerial panorama of La Favorita battlefield
---
General Wurmser, blocked inside Mantua since August 1796 by French troops, tried on that day an output, combined with the arrival of a relief column under the command of General Giovanni Provera.
Picture - "Battle of La Favorita". Painted by Carle Vernet.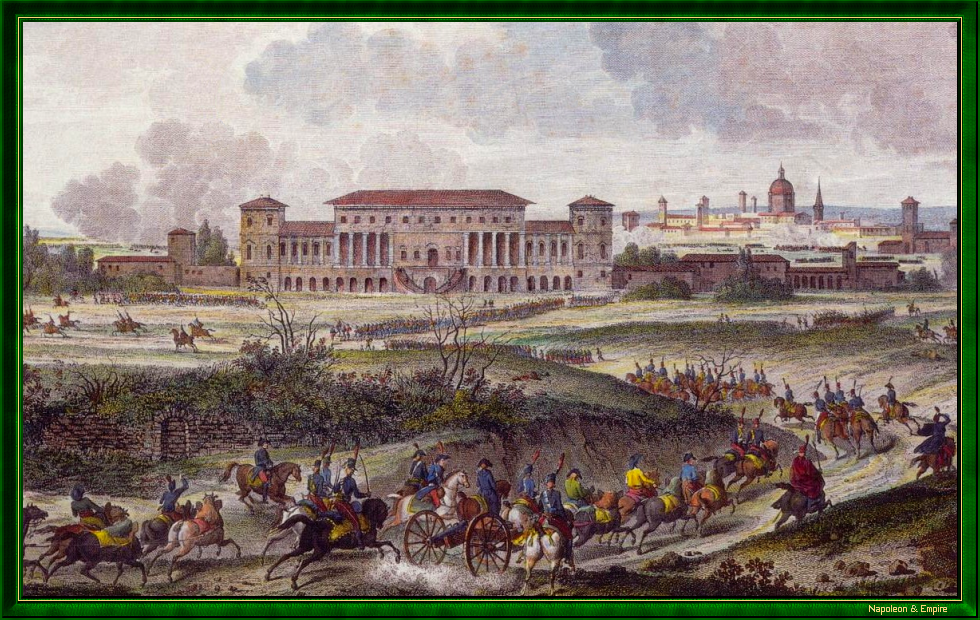 Photos Credits
Photos by Lionel A. Bouchon.
Photos by Marie-Albe Grau.
Photos by Floriane Grau.
Photos by Michèle Grau-Ghelardi.
Photos by Didier Grau.
Photos made by people outside the Napoleon & Empire association.