Duke of Belluno
Claude-Victor Perrin was born on December 7, 1764 in Lamarche in the Vosges region of France where his father was a royal baillif in the bailiwick of Bassigny.
Between 1781 and 1791, Perrin was a drummer in the artillery regiment in Grenoble. Next, he joined the National Guard and was a Captain in the volunteers in Bouches-du-Rhône when it was declared that the country was in danger on July 11, 1792.
He proved his mettle at the siege of Toulon when he captured the redoubts at Mont-Faron (November 1793) and at Petit-Gibraltar. During the latter battle, he was seriously wounded in the abdomen on December 17. Three days later he was promoted to Brigadier General (two days before Napoleon Bonaparte) by the government's representatives Salicetti and Gasparin. However, he had to wait until June 1795 for the Committee for Public Safety to confirm his promotion.
After serving in the Army of the Eastern Pyrenees, he transferred to the Italian Army in August 1795. He stayed in Italy until 1800, participating in every battle, and earning the sincere appreciation of his commanding officer. Napoleon Bonaparte promoted him to général de division (Major General) on January 18, 1797 and granted him a Saber of Honour after Marengo (June 14, 1800) for having held off the Austrians long enough for a French victory.
He took a commission in Holland until 1804 when he became French plenipotentiary in Denmark.
In 1806, he served as Chief of Staff to Jean Lannes. He fought at Jena (October 14, 1806), Pultusk (December 26), and was captured by a group of Prussian supporters commanded by Ferdinand von Schill when attempting to reach Stettin (Szczecin) on January 20, 1807. After a year and a half as a prisoner of war, he was finally exchanged for Blücher on March 8.
A few weeks later during the Battle of Friedland (June 14), he replaced an injured Jean-Baptiste Jules Bernadotte at the head of his army corps and took part in a definitive victory. He was rewarded with a Marshal's baton on July 13, 1807.
After Tilsitt, he became responsible for the government in Berlin and in Prussia and distinguished himself for his impartiality. He was made Duke of Belluno in September 1808 and soon after was sent to Spain. He won victories at Espinosa (November 10-11, 1808), Uclés (January 13, 1809), and Medellin (March 28), but he was pushed back by Wellington at Talavera (July 27-28, 1809).
He began the siege of Cádiz in February 1810, but did not see the end. In fact, in 1812, Napoleon I called on him to support Oudinot at Vitebsk and then to contain the Russians with the rear-guard of the army at Berezina where his men were outnumbered five to one.
During the campaign of 1813, Perrin was given command of an army corps and contributed to the victory at Dresden (August 27) when he sent the left flank of the Allies' army into full retreat. He also fought at Leipzig (October 18) and at Hanau (October 30) before being tasked with protecting the Eastern French border from invasion. Without the necessary resources, he was forced to retreat to the Marne.
Of all the battles in 1814, it was his late arrival at Montereau on February 18 (he had allowed his troops to rest) that angered the Emperor the most and lost him his command.
Furious with Napoleon I, he enthusiastically rallied to Louis XVIII and the Bourbons during the first Restoration.
After Napoleon's return from Elba, his troops abandoned him after he gave a particularly violent order against Napoleon I. He had no other options but to accompany the King to Ghent.
During the second Restoration, he was made a Peer of France, Major General of the Royal Guard in 1815, Minister of War from 1821 to 1823, and then Minister of State and member of the Supreme War Council. He also voted in favour of Marshal Ney's death.
The Duke of Belluno died on March 1, 1841 in his Paris residence on the Rue du Regard . He is buried in the 17th division of the Père Lachaise Cemetery in Paris .
"Marshal Victor, Duke of Belluno", by Antoine-Jean Gros (Paris 1771 - Meudon 1835).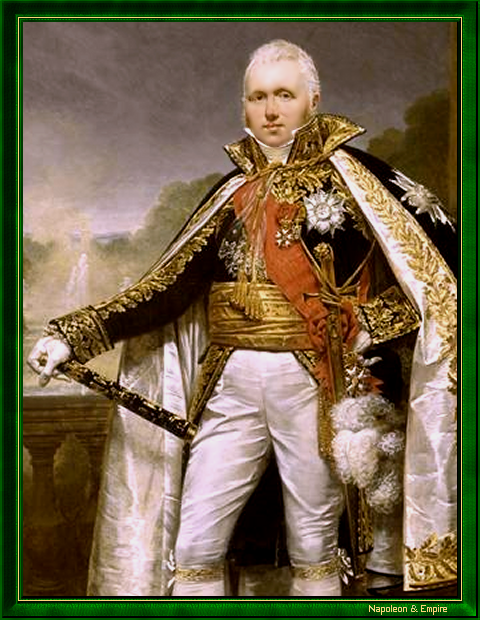 The Marshal later said he regretted voting in favour of Marshal Ney's execution and marked his memory every year on anniversary of the death of the Prince of the Moskova.
Acknowledgements
We thank Mr Liam Mulroy for having translated this page.