Baron (Freiherr)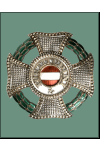 Adam Bajalics was born in 1734 (the exact date is unknown) in Szeged in Hungary in a Croatian family.
He received the title of Baron von Bajahaza on September 10, 1782 and became a general officer on January 1st, 1794.
Bajalics served under Dagobert Sigmund von Wurmser during the first Italian campaign of Napoleon Bonaparte.
Bajalics resigned during the year 1797 and died on June 5, 1800 in Karlovac, Croatia
His name is sometimes found as Adam Bajalić von Bajaházy, Adam von Bajalić Baja Hazy, or even Adam Bayalitsch.