Prince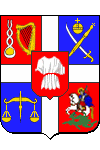 Prince Pyotr Ivanovich Bagration was born in 1765 at Kizliar, Daghestan (or at Tbilisi, Georgia according to other sources), in a royal Georgian family.
In 1792 and 1794 he fought under General Alexander Vasilyevich Suvorov in Poland, then in 1799 in Switzerland and Italy against Jean Mathieu Philibert Serurier at Lecco, Jean Victor Marie Moreau at Cassano, and Etienne Macdonald at Trebbia.
In 1805, Emperor Alexander I of Russia gave him the full command of an army corps in Moravia, under General Mikhail Illarionovich Golenishchev-Kutuzov. In Hollabrunn on November 16, 1805, he succeeded in escaping with 7,300 men from Joachim Murat and Jean-de-Dieu Soult.
Bagration fought on December 2nd, 1805 at Austerlitz, then in 1807 at Eylau, at Heilsberg and at Friedland.
In June 1807 his discussion with Murat led to the signing of the peace treaty of Tilsit.
During the four years long peace between Russia and France, Prince Bagration fought against Swedish in Finland, then against Turks at the battles of Rassowa and Tataritza. In 1809 he was promoted to General of Infantry.
In 1812, Bagration was defeated by Napoleon I at Mohilev on July 23rd, but succeeded in joining Michael Andreas Barclay de Tolly at Smolensk. He later fought at Volontina, and at Borodino on September 7th, where he was injured just before the end of the battle. He died at Sima, a russian village, on September 24 (September 12 according to julian calendar).
"Prince Pyotr Ivanovich Bagration", by George Dawe (St James's, Westminster 1781 - Kentish Town 1829).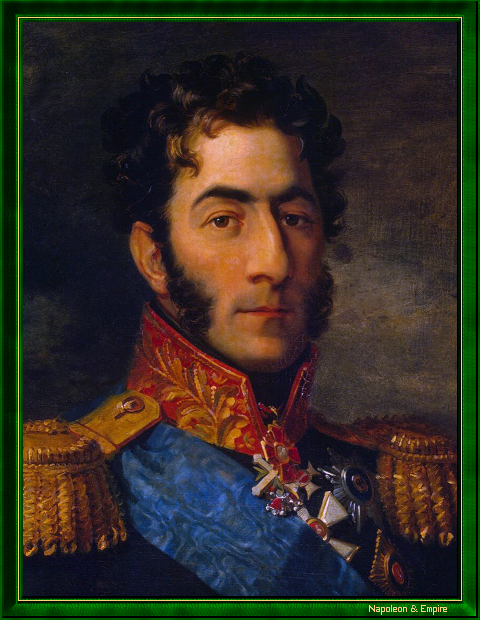 Joseph Vissarionovich Stalin, another Georgian, honoured the memory of Prince Bagration by naming operation Bagration the Soviet 1944 Belorussian strategic offensive operation during World War II.