Count of the French Empire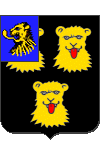 Félix-Julien-Jean Bigot de Préameneu was born in Rennes (Brittany) on March 26, 1747 and began his career as a lawyer in the parliament of the city. In 1778 he settled in Paris where he became friends with Jean-Etienne-Marie Portalis.
In 1791 he was elected to the Legislative Assembly but his moderate views led to his arrest during the Terror. He was then about to be guillotined...
At the beginning of the Consulate, he joined the committee responsible for drafting the Civil Code with Portalis, Jacques de Maleville and François Denis Tronchet, under the direction of Jean-Jacques Régis de Cambacérès. The Council of State received him in December 1801. He quickly chaired the section on Legislation.
Bigot was elected to the French Academy in 1803, although the simplicity of his style was in stark contrast to the tastes of the time.
In 1805, Napoleon instructed Bigot to reorganize the justice of recently annexed Liguria. In 1808, Bigot succeeded his friend Portalis, deceased, as Minister of Religious Affairs. Soon after, the new minister was appointed Count.
Bigot de Préameneu retained his ministry until the fall of the Empire. In this role he took part in all phases of the conflict between Napoleon I and Pope Pius VII.
During the second Restoration, Bigot lost all his responsabilities except his place at the French Academy, for having served Napoleon during the Hundred Days.
Félix-Julien-Jean Bigot de Préameneu rendered his soul to God on July 31, 1825 in Paris.
His tomb is located in Pere Lachaise cemetery, Paris (14th division).
"Count Félix-Julien-Jean Bigot de Préameneu". Lithography by Louis-Léopold Boilly (La Bassée 1761 - Paris 1845).