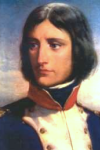 1789
1st April 1789 – Napoleon Bonaparte suppresses a popular riot at Seurre, Burgundy, with a detachment of a hundred men.
19 July 1789 – Yet another riot suppression, at Auxonne.
21 August 1789 – He is again granted leave for six months.
09 September 1789 – Napoleon Bonaparte leaves Auxonne to Corsica.
31 October 1789 – During a political meeting at Ajaccio , he draws up a letter to the Assemblée Nationale Constituante (French National Assembly) that he gets signed by his assistants.
26 December 1789 – He is denounced as a troublemaker to the Minister for War by La Férandière, the commanding officer of Ajaccio.
1790
16 April 1790 – Request for extension of leave for health reasons.
17 July 1790 – Napoleon Bonaparte and his brother Joseph meet Pasquale Paoli in Bastia, Corsica.
1791
31 January 1791 – Napoleon Bonaparte joins his regiment at Auxonne.
1st June 1791 – He is promoted as lieutenant and transferred to the 4th artillery regiment, at Valence, a town upon the Rhône river, southern France. – 16 June 1791 – Arrival at Valence.
30 September 1791 – Fresh leave.
1792
1st January 1792 – The name of Napoleon Bonaparte is included in the list of officers absent from their corps. – 14 January 1792 – He is appointed as Warrant Officer-Major of a battalion of the National Guard of Ajaccio.
1st April 1792 – Napoleon Bonaparte becomes second lieutenant-colonel of the same battalion. – 08-11 April 1792 – Active participation in fights at Ajaccio.
28 May 1792 – Napoleon goes to Paris to defend himself against the accusation of having been one of the initiators of trouble in Ajaccio.
10 July 1792 – He is reincoporated into the army, with a captain's rank.
10 August 1792 – In Paris, Napoleon witnesses the Assault on the Tuileries and the departure of King Louis XVI.
10 October 1792 – He returns to Ajaccio, with orders to resume his command in Corsica.
1793
03 May 1793 – Napoleon Bonaparte, victim two months before of a murder attempt, must leave Ajaccio. – 23 May 1793 – The Casa Buonaparte is ransacked by supporters of Pascal Paoli. – 27 May 1793 – Paoli, back from exile, gets the Bonaparte family, which opposed him, banished from Corsica.
10 June 1793 – Napoleon Bonaparte and his family leave Calvi, Corsica. – 13 June 1793 – They land in Toulon, Provence. – 26 June 1793 – Napoleon joins his regiment at Nice, French Riviera.
25 July 1793 – Napoleon is sent to Avignon to dislodge the federalists from Marseilles. He seizes Villeneuve and himself directs the cannons bombarding Avignon, the city of the Popes. – 28 July 1793 – He enters Avignon.
16 September 1793 – He is sent to command the artillery in front of Toulon.
28 October 1793 – Promotion of Napoleon Bonaparte to the rank of battalion commander.
6 December 1793 – General Dugommier, who is the commanding officer in front of Toulon, sends to the Convention a letter in praise of citizen Buona Parte. – 17 December 1793 – Napoleon Bonaparte is injured by a bayonet during the assault of fort Mulgrave, but keeps on fighting, with the help from Captains Jean-Baptiste Muiron and Auguste-Frédéric-Louis Viesse de Marmont. – 19 December 1793 – He penetrates into Toulon at 7 AM. – 22 December 1793 – New promotion, to the rank of Brigade General. – 26 December 1793 – The defence of Marseilles and the Provence coast is bequeathed to him.
Just place the mouse cursor upon any date after September 1793 to display a tooltip showing the date according to the French Revolutionary calendar.