Chief Surgeon to the French Army, Commander of the Légion d'Honneur, Baron of the Empire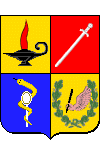 Pierre-François Percy was born on October 28, 1754 in Montagney, Franche-Comté (now in Haute-Saône), the son of the village surgeon.
He studied medicine at Besançon, defended his thesis in 1775 and joined the army, where he became surgeon in 1782.
During the Revolution he was appointed to the army of the Rhine. He created a corps of mobile surgery and invented the "würst", ambulance trolley designed to carry the nursing staff and the required equipments on the battlefield up to the wounded. He was the first to conceive the idea of an independent health body, neutral and inviolable; this idea will be taken up later by Henri Dunant, who will create the Red Cross in 1863.
Percy performed the first shoulder disarticulation by resection of the humeral head (although, unlike Dominique Jean Larrey, he tried to avoid as much as possible amputations). He invented the cork-balls and the surgical quiver, a kit worn by the surgeon on his shoulders and that may contain a tourniquet and eleven instruments.
He served on the main battlefields of the Empire and Napoleon granted him the highest honors: officer of the Legion d'Honneur in 1804 (with René-Nicolas Dufriche Desgenettes and Dominique Jean Larrey), member of the Academy of Sciences in 1807, commander of the Legion of Honor the same year after Eylau, Baron of Empire in 1809 after Wagram.
From year 1809, Pierre-François Percy suffered from ophthalmia. He eventually had to leave the Grand Army. He then directed the inspection services of health and teaches at the Faculty of Medicine of Paris.
During the campaign of France in 1814, he resumed service and saved twelve thousand wounded Russians and Prussians by requisitioning abattoirs of Paris and turning them into hospital; he received for such a generous action the highest honors of Bavaria, Prussia and Russia.
The Restoration compeled him to retirement. He was nevertheless made an honorary member of the Academy of Medicine in 1820.
Pierre-François Percy spent the last years of his life writing his memoirs, including an irreplaceable "Journal des campagnes". He died in Paris on 18 February 1825 and was buried in Pere-Lachaise cemetery (18th division). His monument bears the inscription: "He was the father of military surgeons."
"Baron Pierre-François Percy, Chief Surgeon to the French Army". Nineteenth century engraving.
Percy's name is listed on the 10th column (pillar north) of the Arc de Triomphe (Paris).
The Army Teaching Hospital in Clamart (Hauts-de-Seine, southern suburbs of Paris) bears his name.