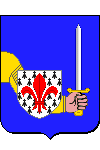 Georges Cadoudal was born in Kerléano, Brittany, on January 1st, 1771, the son of a miller.
He became a leader of the Chouannerie during the French Revolution.
He was guillotined in Paris, along with eleven of his companions, on June 25, 1804.
"Georges Cadoudal" by Amable Paul Coutan (Paris 1792 - Paris 1837).