The ancestors of Napoleon: his great-grandparents
Napoleon Bonaparte had eight great-grandparents! It was by no means a truism, if one observes that his wife Marie-Louise had only four (through intermarriage)!
Their historical significance was limited to the part they played in the birth of the Emperor, so this website doesn't publish their individual biographies; however it seemed to us appropriate to present them briefly, as well as Napoleon's grandparents.
BONAPARTE, Sebastiano Nicola
Nobile Sebastiano Nicola Bonaparte, born September 29, 1683 in Ajaccio , was the father of Giuseppe Maria Bonaparte, the grandfather of Carlo Bonaparte (or Buonaparte), and therefore the back-grandfather of Napoleon the First.
He married on December 17, 1708, in his hometown, Maria-Anna Tusoli, who gave him six children. He was appointed Elder (Anziano) to the Council of Ajaccio on April 20, 1720, and died before November 1720 (some sources indicate October 20, 1720; others cite November 24, 1760, forty years later!), at Ajaccio too.
The Bonapartes were a branch of the family Cadolingi di Borgonuovo, lords of Fucecchio in Tuscany since the tenth century. Their lineage had moved to Sarzana, Liguria, before 1264 and to Corsica in the late fifteenth century, as we shall see below.
Sebastiano Nicola was the son of Giuseppe Maria Bonaparte (February 24, 1663 - October 24, 1703), who had served as Elder at the Council of Ajaccio, and Maria Colonna Bozzi (circa 1665 or 1668 - October 16, 1704), married on November (or December) 20, 1682. Maria's dowry was 4,901 pounds and included some parts of the Bozzi house (future Bonaparte house), located on Malerba Street.
His paternal grandparents were Carlo Maria Bonaparte (November 1st, 1637 - August 26, 1692), also Elder at the Council of Ajaccio on several occasions from 1666 to his death, who had married on June 10, 1657 Miss Virginia Odone (February 27, 1642 - ?), the daughter of Pietro Odone, a merchant, and Constanza Pozzo di Borgo, a noble young woman.
His maternal grandparents were Antonio Colonna di Bozzi, Signori dell Altu Taravu, and his wife Giustina Lomellini. Their relationship with the Colonna family, from which came Pope Martin V, is uncertain.
His homonymous great-grandfather Sebastiano Bonaparte (1603 - February 28, 1642) was Elder at the Council from 1620 and became Chancellor of Ajaccio in 1633. He married on May 19, 1630 Miss Maria Rastelli (1608 - after 1658), daughter of Domenico Rastelli. His ancestry was the following:
Sebastiano was born from Francesco Bonaparte (circa 1570 - 1633) and Camilla Catacciolo. Francesco had served as an officer in the armed forces of the Republic of Genoa, specifically as a colonel of his own regiment in Corsica;
Francesco's parents were the politician Geronimo (or Girolamo) Bonaparte and his wife Pellegrina Calvari. Girolamo, a notary, lived over 100 years (circa 1550 - 1650), held various positions (including that of President in 1594) to the Council and Senate of Ajaccio, and became senator representing Ajaccio at the Senate of Genoa;
Geronimo's father was Gabriele Bonaparte (dead 1589), mercenary horseman of the Republic of Genoa in Ajaccio; his mother was Francesca Montano, from a patrician family;
Gabriele's father was Francesco Bonaparte (dead 1540), nicknamed "il Moro" (The Moorish). That Francesco was a noble man, from Sarzana in Liguria, who had served as a mercenary crossbowman and horseman in the Army of the Saint-George Bank (Banco di S. Giorgio); he had been assigned to Corsica in 1490 and had married the following year Miss Caterinada Castelletto, the daughter of Guido da Castelletto, the local representative of the Saint-George Bank. Francesco, who had retired in the 1510s, decided to settle permanently on the "Island of Beauty" (Corsica), thus founding the Corsican lineage of the Bonapartes.
TUSOLI, Maria-Anna
Born 1690 at Bocognano (Bucugnà in Corsican language), a mountain village located between Ajaccio and Corte, she was the daughter of Nobile Carlo Tusoli and Isabella N., both natives of the village.
She married Sebastiano Nicola Bonaparte at Ajaccio on December 17, 1708.
The couple had six children:
Paola Maria Bonaparte, born on August 25, 1710 at Ajaccio, who married on June 29, 1737 Pietro Ternano (? - before 1750), then in second wedding in 1750 Michele Angelo Durazzo-Fozzani (Fozzano, 1698 - circa 1755), General of the Independant Corsican Army, and finally in third wedding on January 14, 1756 Gaetano Alata (August 1735 - ?);
Maddalena Bonaparte, born towards 1712 at Zigliara, who married in 1736 Frederick de Drost Freiherr von Moersbruck, parent of Theodor Stephan Freiherr von Neuhoff, the first and only King in the whole history of Corsica, who reigned during only seven months, in 1736;
Giuseppe Maria Bonaparte, born on May 31, 1713 at Ajaccio, dead on December 13, 1763, Napoleon's grandfather;
Napoleone Bonaparte, born towards year 1717. Chairman of the Council of Ajaccio from 1764, he was killed on August 17, 1768, fighting against the French army, a few months before the battle of Ponte Novu;
Luciano Bonaparte, born on January 8, 1718 in Ajaccio. When his elder brother Giuseppe Maria passed away on December 13, 1763, he took under guardianship his nephew Carlo Maria Buonaparte, the future father of Napoleon. Archdeacon and canon of the Cathedral of Ajaccio since 1771, Luciano offered a scholarship in 1781 to Joseph Fesch, the half brother of the wife of his nephew, to enable him to enter the seminary of Aix-en-Provence. He died in his hometown on October 15, 1791;
Carlo Sebastiano Bonaparte, born on October 19, 1720; dead in 1760.
Maria-Anna Bonaparte deceased at Ajaccio on September 17, 1760.
PARAVICINI, Giuseppe Maria
He married in 1707 Maria-Angela Salineri. They gave birth, among other children, to Maria Saveria Paravicini, paternal grandmother of Napoleon Bonaparte.
SALINERI, Maria Angela
The daughter of nobile Angelo Agostino Salineri (1653-1724) and of Franchetta Merezano, she married in 1707 Giuseppe Maria Paravicini.
She died towards year 1741.
RAMOLINO, Giovanni Agostino
Born in Ajaccio in 1697, he married Angela Maria Peri. They gave birth in 1723 to Giovanni Geronimo Ramolino, Napoleon's maternal grandfather.
He died in 1777.
PERI, Angela Maria
Born from N. Peri and Maddalena d'Istria, she married Giovanni Agostino Ramolino.
PIETRASANTA, Giuseppe (-Maria)
The son of Giovan Antonio Pietrasanta (1671-1704) and of Paola Brigida Sorba, he came into the world towards year 1700.
He married Maria-Giuseppe Malerba, and the couple gave birth towards 1725 to Angela Maria Pietrasanta, maternal grandmother of Napoleon.
He became in 1769 councillor at the High Council of Corsica in Bastia.
MALERBA, Maria Giuseppe
She married Giuseppe (-Maria) Pietrasanta.
The ancestors of Napoleon: his grandparents
All of them were born in Ajaccio .
BONAPARTE, Giuseppe Maria - Paternal grandfather
Born on May 31, 1713, he was the son of Sebastiano Nicola Bonaparte and Maria Anna Tusoli.
He married on March 5, 1741 at Ajaccio Maria-Saveria Paravicini, who gave him two daughters (Maria Geltruda and Marianna) and two boys: Carlo Maria, Napoleon's father, and Sebastiano.
In 1749, Giuseppe Maria represented the city of Ajaccio to the Corsican Council in Corte.
After his widowed, he remarried in 1760 Miss Maria Virginia Alata (born February 5, 1725).
He passed away on December 13, 1763.
PARAVICINI, Maria-Saveria - Paternal grandmother
Born on September 7, 1717 (or 1715), she was the daughter of Giuseppe Maria Paravicini and Maria Angela Salineri.
On March 5, 1741 she married at Ajaccio Giuseppe Maria Bonaparte. She gave birth on March 27, 1746 to Carlo Maria, the future genitor of Napoleon.
She died in 1750 (or 1748, even 1780 according to various sources).
RAMOLINO, Giovanni Geronimo (ou Gerolamo) - Maternal grandfather
The son of Giovanni Agostino Ramolino and Angela Maria Peri, he came into our world on April 13, 1723.
He served as an infantry and cavalry captain in Corsican regiments of the Republic of Genoa Army.
He married Angela Maria Pietrasanta on October 29, 1743 at Ajaccio. Angela Maria gave him a daughter, named Maria Letizia, who would become the mother of the future Emperor.
He died in 1755.
PIETRASANTA, Angela Maria - Maternal grandmother
She was born towards 1725, the daughter of Giuseppe Maria Pietrasanta and his wife Maria Giuseppe Malerba.
She took as husband Giovanni Geronimo Ramolino on October 29, 1743 in Ajaccio. She gave birth on August 24, 1750 to Maria Letizia Ramolino, mother of Napoleon.
After her widowed, she married in second wedding a swiss citizen, François Fesch (Basel, August 2nd, 1711 - circa 1775), who served as a captain in the Genoan Navy. From this union was born on January 3rd, 1763 Joseph Fesch, Napoleon's uncle, future cardinal, then a daughter called Paola Brigida, a couple of years later.
Angela Maria died in 1790, having therefore well known the future Emperor.
The ancestors of Napoleon: his parents
Brothers and sisters of Napoleon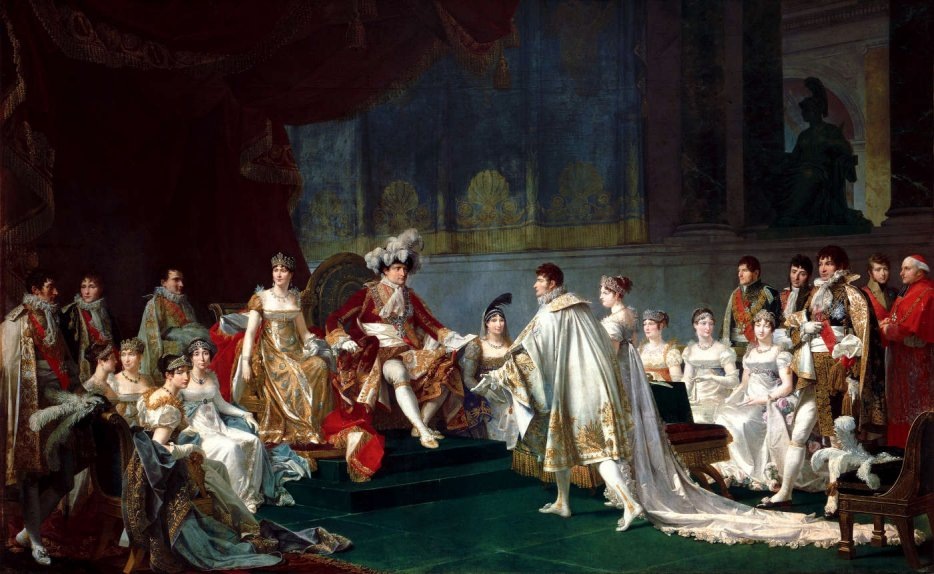 Signature of the marriage contract of prince Jérôme Bonaparte and Catharina of Württemberg, in the presence of the Imperial Family at the Tuileries, on August 22 1807. Painting by Jean-Baptiste Regnault (1754-1829)
The spouses of Napoleon
Napoleon's legitime son
Napoleon's adopted children
The descendants of Napoleon: his illegitimate children