Photographing battlefields of the Napoleonic era, two centuries later, is not easy because they evolved as the landscapes of the countryside but also as our cities...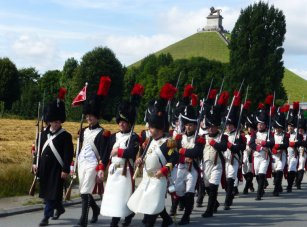 Parade near the Lion's Mound at Waterloo
Enlarge
Some have remained in a state close to that fighters roamed at the time: either because they have been protected (Waterloo) or because their rurality has avoided them, for now, a too visible transformation (Marengo, Austerlitz, Eckmühl, Friedland, Champaubert...). Of course, some electrical or telephone poles and wires, some antennas or satellite dishes, some cars or tractors, some advertisement billboards were added to those places (one must move with the times, even in the countryside); but the photo retouching softwares can often remove them, so we can see before us a state close to that as valiant veterans, and the Emperor himself, saw.
But alas it is not of same everywhere. Cities, especially, have been greatly transformed, sometimes even in their historical center. Some quintupled or tenfold of size (Alessandria, Mantua, Vienna and its surroundings, Leipzig, Dresden, Vitoria, Laon, Montereau ...), others were disfigured during subsequent conflicts (Reims during World War I, Ulm, Dresden and Leipzig during World War II). Housing estates have flourished even in the countryside (Wagram, Vauchamps); when this is not one of those awful commercial areas, over several dozen acres, that has settled over much of the battlefield (La Favorita near Mantua, Mont-St-Pierre at Tinqueux near Reims). Then, a church, a few walls, a piece of land are all that remains to be seen... for how long?
We have not visited all the Napoleonic battlefields, far from it. Our next years will be devoted to enriching the iconography. Then some younger persons will take over from us, we hope so, to complete this work. Because images never die.
Enjoy your visit!